A. Zombie Reviews . . . Resident Evil: Extinction
---
Summary

By some strange happenstance, I happened to find this film again since first watching it when it released on 2007. Like most creatures, I enjoy revisiting movies from time to time to see if the impression lasts. Ten years down the road, how does one judge this post-apocalyptic entry in the Resident Evil franchise compared to, oh, Mad Max: Fury Road or the numerous zombie-centric television shows?
---
A. Zombie Reviews . . . Resident Evil: Extinction
by A. Zombie
Rated: R (Strong Violence, Nudity)
Starring: Milla Jovovich, Oded Fehr, Ali Larter, and Iain Glen
In the franchise's third installment, not only has Raccoon City fallen to the dead, but the T-Virus spread like wildfire, decimating the global population. Mother Earth has set to reclaiming the land, sweeping it clear with vast deserts. Few living survive, mostly as nomads. The Umbrella Corporation thrives in underground bunkers. Their scientists, led by Dr. Isaacs, work tirelessly to use clone Alice's blood to control the dead and reclaim the surface for human kind. The woman herself? She lives off the grid, so paranoid she can't make a friend, but still cannot resist the urge to help those in need. A convoy, led by Claire, finds themselves in need of Alice's special skills. In return, they help her break into the home of the very people hunting her down.
There's actually quite a bit crammed into this deceptively simple film. It handles touchy topics like Alice's survivor's guilt, and the ethics behind using human clones for experimentation. We see a woman, Claire, leading a large group with none of the usual male arrogance costing innocent lives because they can't be bothered to listen to the little lady. There's ramifications for Umbrella's genetic meddling, demonstrated when the arrogant, rich bastards sit down to wring their hands over dwindling supplies while they're no closer to a solution to the undead problem they created.
But there's also quite a bit of bullcrap pushing the plot along, like magically appearing undead and male egos.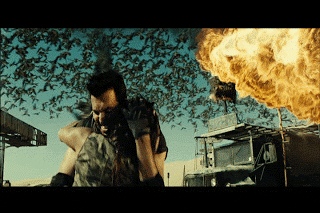 Dr. Isaacs' demeanor is much like that weird clump of gunk one collects on their shoes after walking a mile through alleys in the seedier side of the city. There's no professional ramification for his obsession with Alice, nor does anyone actually stop him from torturing dozens of women. It's not until the film's climax when Isaacs is desperate to survive after being bitten that he pays for all his sins. And it isn't enough to make up for the nauseating male arrogance propelling the character like a shark. Umbrella itself continues on, despite losing Isaacs and his American lab. The only price they pay is the woefully low supplies in their worldwide bases. While there's some satisfaction in the end for Alice, it's not the solid win one expects at the end of an action film. The full blame lies with the way the franchise was written early on, forcing each film to flow nearly seamlessly into the other. A stand-alone film would have to deal with Umbrella in a more complete way. It also wouldn't have shipped off the entire cast, save one, and never follow up. They languished in knowing they could leave an open ending, and that's not stellar storytelling. Each entry in the series should be written as its own entity. Cliffhangers aren't actually all that fun.
The undead in the third film were pretty sparse up until the second half. For the most part, we had human foes and infected animals going for Alice's blood and body. The infected dogs are a personal favorite. We also learn what happens when animals ingest infected meat—the crows proved far more terrifying than their canine counterparts. The avian threat wiped out a large piece of Claire's convoy in a scene Hitchcock would've watched with a grin on his face. And the human infected? Well, much like other RE films, there's various types of human dead. This time around there's the mundane infected, like those surrounding the fence protecting the entrance to the Umbrella base, and the Alice-enhanced infected who're far more aggressive. Makeup applications for the mundane are standard for the franchise—great detail on the hero dead, with just as much attention spent on the background actors so the blend is natural during in-horde shots. What irritated me was when they opted to strip individual characteristics from the enhanced dead, making them all the same angry white guy zombie in a jumper. The reasoning? Stunt work. The enhanced infected swarm what's left of Vegas during Isaacs' grand scheme to finally grab the real Alice for testing. In order to film so many simultaneous stunts, using masks instead of fragile prosthetics saved money and time. It also allowed performers to be swapped out at will in order to achieve different physical performances. But it looks bloody awful ten years down the road on a high definition screen. The scalps jiggle. The heads are too big. Try as I might to focus on the foreground fighting, I kept watching the Jell-O headed zombies in the background.
So how does Resident Evil: Extinction compare to the genre offerings which have come since? It fails to adhere to the typical gender roles for zombie flicks, that's a huge bonus. The plot—a savior type wanders the countryside, helping others while fighting their inner and outer demons—isn't original, but fit so well within Alice's story, it's almost refreshing to escape crowded RE sets in favor of gorgeous desert landscapes. And it's certainly an improvement over seven seasons of Rick's people being unable to see zombies in a sparse forest. The personal interactions go deeper than some films—Alice and Carlos' scenes in particular—without devolving into time-consuming, but not plot advancing, sex. Honestly, the film is solid. I keep trying to poke holes in it, but the problems I found were small enough to ignore. The only real thing showing its age is the trademark glossy computer graphics from the turn of the century, giving every CGI element a wet look even when it wasn't supposed to be. I give Resident Evil: Extinction four oozing eyeballs out of five—the same rating I gave it ten years ago.